Financial aid is complex. That's why institutions turn to financial aid management (FAM) systems to help them manage administrative processes, maintain compliance, reduce costs, and improve the entire financial aid distribution process.
All FAMs support the following three core financial aid processes:
Enable institutions to receive and process student financial aid applications
Package basic awards
Request funding


But not all FAMs are created equally. Any solution worth considering must be able to handle the full complexity of today's financial aid ecosystem. It also should go above and beyond for students. After all, aren't they the ones we're all here to support?
So, what should your financial aid management system be doing for you?
5 Things Your FAM Should be Doing for You
1. Automate financial aid processes
Data from the National Center for Education Statistics shows that 87% of first-time, full-time undergraduate students were awarded aid at four-year degree-granting institutions in the 2019-2020 academic year, and 82% were awarded aid at two-year degree-granting institutions during the same time period.
That's a lot of financial aid to process.
And, according to the 2019 NASFAA Benchmarking Report, only 77% of institutions report sufficient resources to administer Title IV aid programs in compliance with federal administrative capability requirements. This means that 23% of institutions don't have enough people to process millions of dollars of financial aid efficiently and with reduced risk.
But what would happen if more of the processes were automated?
Did you know that you could automate financial aid processes by as much as: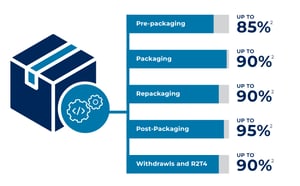 Regent Education automates the financial aid process across all enrollment models, helping customers to realize benefits including spending 60% less time processing financial aid and reducing financial aid office workload by 20%.
2. Support all enrollment models
What if your president or provost asked you to support a new, flexible enrollment model for a new program offering? Could you do it?
How many FAMs do you believe support and automate traditional and borrower-based academic years (BBAYs) using standard and nonstandard terms as well as self-paced programming, such as competency-based education (CBE), using the new subscription periods or dynamic nonterm models?
The answer is one: Regent Education. Our holistic solutions automate the financial aid lifecycle to support the most complex scenarios. Their SaaS-based design, integrated with key campus systems, gives administrators like you the flexibility to easily package - and repackage - financial aid automatically across all innovative enrollment and education models, including CBE and the new subscription periods.
3. Help students reduce debt
As of September 2022, US student loan borrowers owe a collective $1.76 trillion in federal and private student loans.
Kinda makes your head spin…multiple times.
That's why there is so much talk about student loan forgiveness and debt cancellation. Individuals and families are weighed down by enormous student loan debt. It not only increases the likelihood of not only discontinuing college but also blocks their paths forward toward home ownership, vacation experiences, and providing opportunities for their children.
What if you could help students reduce the debt they take on, right from the start?
Regent Education allows students to see award offers at varying levels of borrowing and their associated payback amounts. This view helps them decide if they should choose maximum borrowing or borrow just enough to cover the direct costs for their specific programs.
4. Support more than Title IV
Financial aid can come from multiple sources:
Grants and Scholarships
Military and Veterans Benefits
Work Study Jobs
Federal Financial Aid
Private Loans
Employer Support
State Awards
So, your FAM should support more than just Title IV. It needs to also support other sources of aid, including institutional scholarships.
For example, does your institution leverage corporate and community partnerships to help students finance their education? And, if so, is your FAM flexible enough to automate all the diverse benefit programs? Using Regent Education, one institution increased aid-awarded enrollment by over 60% with this funding source alone.
5. Provide a 360-degree view of the student experience
Enrollments are declining. This is not news. But that means that every single enrollment is precious.
Your FAM likely enables financial aid advisors to help students stay on top of their financial aid processes which reduces the number of 'What's the status of my financial aid?' calls and emails. But does it also support automated, personalized multi-channel communication such as texting and emails to guide students through their financial aid processes? Does it provide advisors a secure way to see what the student sees in their financial aid portal in real time? And does it provide financial aid insights into Salesforce for enrollment and student success teams who don't use the FAM?
Think about this … and imagine how much more focused and helpful advisors could be if they had such capabilities.

Using Regent Education, recruiters can identify the presence of a FAFSA at the institution as well as the student's awarding status to help with proactive outreach for students of interest. They also could spot tasks or documents blocking awards or disbursements and direct students on next steps.
Student Success Advisors can discover if a student has not requested aid for the upcoming year and conduct proactive outreach. They can also detect if an issue with a student's aid places them at risk and provide appropriate direction. Finally, they can recognize if a student is experiencing academic issues that may affect access to financial aid and, if so, engage the right resources.
In Summary
Processing financial aid is indeed a complex undertaking. And not all financial aid management systems are created equal.
Regent Education enables you to do all five things we've just discussed…and more. With Regent Education, you can:
Automate the financial aid lifecycle, from the moment your institution receives a student's initial ISIR and is selected for verification, until that student's very last disbursement.
Support all enrollment models, including the new subscription periods model. We also support multiple models at the same institution.
Help students borrow responsibly and minimize debt by providing them with informed, dynamic financial aid planning aids, smart borrowing tools, and improved counseling support throughout the process.
Support more than Title IV, including corporate sponsorships and institutional scholarships.
Deliver a student-centric experience from recruiting to financial aid to enrollment using the only approved financial aid solution to fully integrate with Salesforce

If your FAM isn't doing all these things for your institution, then we need to chat. Contact us today to schedule a demo.