Regent Education today announced that it has launched Regent Award for Salesforce on Salesforce AppExchange, empowering its customers to use financial aid insights for student recruiting and advising.
Through Regent Award, higher education institutions automate financial aid packaging, repackaging, and student disbursements with simplified workflows. As a result, financial aid staff increase efficiency, mitigate compliance risks, expand enrollment, improve the student experience and satisfaction, and enhance financial management and financial aid lifecycle visibility.
With the addition of Regent Award for Salesforce, the only higher education financial aid app currently on AppExchange, enrollment and student-success teams have access to key financial aid insights in their CRM, in the context of student records.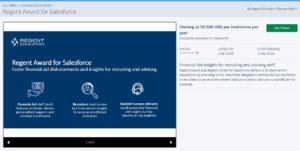 Specifically, recruiters can:
Identify the presence of a FAFSA at the institution as well as the student's awarding status to help with proactive outreach for students of interest; and
Spot tasks or documents blocking awards or disbursements and direct students on next steps.
In addition, advisors can:
Discover if a student has not requested aid for the upcoming year and conduct proactive outreach;
Detect if an issue with a student's aid places them at risk and direct them, accordingly; and
Recognize if a student is experiencing academic issues that may affect access to financial aid and, if so, engage the right resources.
Regent Award plus Regent Award for Salesforce help deliver a cohesive, student-centric experience throughout the entire lifecycle. The solution provides a rich, extensible integration of financial aid indicators. Insights are displayed to users using the Salesforce platform and are customizable to conform to the institution's privacy policies.
Built on the Salesforce platform, Regent Award for Salesforce currently is available on AppExchange at Regent Award for Salesforce.
"We're excited about the potential that Regent Award for Salesforce could have on enrollment at Bellevue University – the financial aid insights could not only serve as enrollment indicators but also help identify at-risk students," said Matthew Davis, EVP Administrative Services, Bellevue University.
"Regent believes passionately in core financial aid data supporting the mission of enrollment as well as retention advisors who serve students every day working in our clients' Salesforce deployments. This application will ensure clear visibility into financial aid status and award indicators that will have a meaningful and positive impact on student enrollment, retention, and completion," said Jim Hermens, CEO of Regent Education.
"Regent Award for Salesforce is a welcome addition to AppExchange, as it powers digital transformation for customers by enabling recruiters and advisors to access financial aid insights," said Woodson Martin, GM of Salesforce AppExchange. "AppExchange is constantly evolving to enable our partners to build cutting-edge solutions to drive customer success."
About Salesforce AppExchange
Salesforce AppExchange, the world's leading enterprise cloud marketplace, empowers companies to sell, service, market, and engage in entirely new ways. With more than 5,000 solutions, 7.5 million customer installs, and 90,000 peer reviews, it is the most comprehensive source of cloud, mobile, social, IoT, analytics, and artificial intelligence technologies for businesses.
Salesforce, AppExchange and others are among the trademarks of Salesforce.com, Inc.