Be Prepared for FAFSA Simplification
A Checklist to Help You Succeed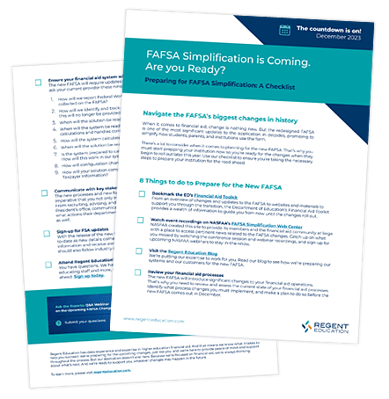 Significant changes to the FAFSA are coming soon.
Are you ready?
If you're like most institutions, the answer is "maybe not." But rest assured, we're here to help.
Download our checklist to help you prepare for FAFSA simplification. In it, you'll find:
Valuable resources that keep you updated on new information as it becomes available
Questions to ask your financial aid solutions vendor to ensure your system is ready to support the changes
What to communicate to stakeholders across campus so that everyone is ready for the new FAFSA rollout later this year
Download the checklist!
You have questions. We have answers!
Our financial aid experts have their finger on the pulse of the upcoming changes and are ready to share their knowledge and expertise with you. Register for our "Ask the Experts" webinar on October 26th. From process changes and system requirements to educating staff and more, we'll answer your questions so you feel ready to manage the new FAFSA. By completing this form you are opting into communications from Regent Education.