A Guidebook for Financial Aid Professionals and Registrars
Published by C-BEN and AACRAO
Sponsored by Regent Education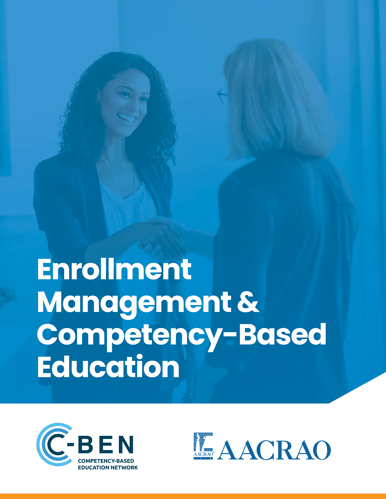 This newly released guidebook developed by C-BEN and AACRAO is now available to be downloaded.
The guide distills the key lessons and implementation guidance developed by C-BEN during a 5 month process, that included feedback from C-BEN's membership base, a survey of the field, and focus groups. The content provides leaders a "how to guide'' for supporting the expansion of CBE programs and implementing best-in-class practices that support student needs and institutional priorities.
The publication is in response to the growing demand for CBE programs and the need to evolve institutional policies and practices to accommodate learner needs. Research conducted by AIR found that 82 percent of institutions expect CBE programs to grow over the next five years. The research established that the biggest factors hindering CBE adoption were institutions' systems and processes along with federal student aid regulations and procedures. It is imperative that institutions have the right systems and operating structure to effectively manage financial aid for CBE programs, grow their tuition and enrollments, and reduce the risk of non-compliance.
Download your copy today. DOWNLOAD YOUR COPY TODAY!

By completing this form you are opting into communications from C-BEN & Regent Education.